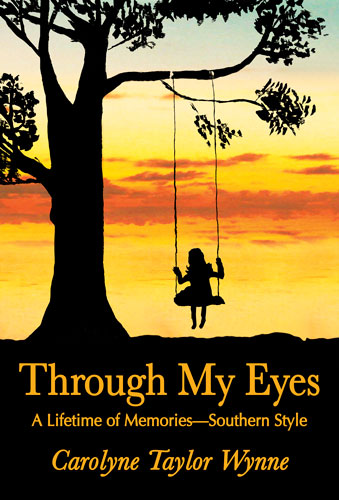 "Carolyne Wynne had an uncanny ability to remember and describe what she saw and experienced in her vibrant life… Some of my favorite parts of Carolyne's memoir are when she came to Atlanta and fell in love with it…enjoying our big city and it's wonderful attractions…all the while transforming into a Southern Lady… She's a natural southern writer and left a wonderful kind of valentine for her relations and friends as well as for people who never even knew her."
For the full review, click here.
—Tucker Times
August 2018 (Volume 28, Number 8)
"I'm the youngest daughter of Carolyne Taylor Wynne, author of the book, Through My Eyes, A Lifetime of Memories—Southern Style, published by Graphite Press. Before my mother died, she completed her charming, historical, and educational book of memoirs appropriate for adults and children of all ages. This book is not a typical memoir because it doesn't delineate every detail of my mother's life. Instead, my mother writes her true tales (mainly her mishaps) in the form of short tales with a laugh at myself punch line at the end of each. In looking back, I realize how effortlessly this book began…"
For the full feature story, click here.
—Up Close and Personal
November 2018 (Volume 16, Issue 6)
"Dr. Curtis Rogers interviews Terry Wynne about her mother's book, Through My Eyes: A Lifetime of Memories-Southern Style. From proud-to-be-Southern storyteller, Carolyne Taylor Wynne's true tales of her life will charm you with their innocence and entertain you with their humor. Her "laugh at myself" punch lines are page-by-page reminders that the best humor often comes from being oh-so-much less than perfect. Historical, educational, and wholesome, Through My Eyes is a treasured book that families, adults, and children of all ages can read and enjoy together."
To listen to the podcast, click here.
—Library Voices South Carolina
November 28, 2018 (Episode 70)